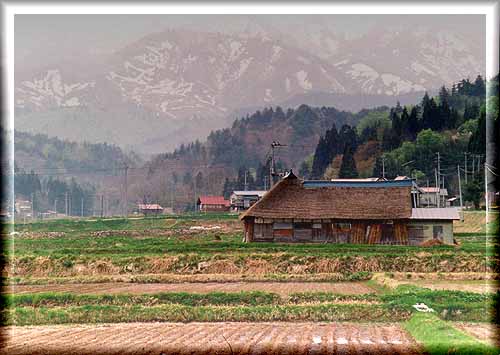 「曲り屋の春」
───────────────────────────────────────
東北の山里の春は、遅れてやってきて、一斉にあらゆる花が同時期に開く。梅、桜、
林檎、杏、桃、そしてさくらんぼ。本当に待ちに待った春なのだから・・・。

まだ雪の残る山並みを背景に、里の田んぼの畦道には着実に新しい命の誕生がある。
雪解けの水分を十分に吸い込み、急速な温度上昇を引き起こす春の太陽の日差しを受け
命が動き出す。「生きてるって、いいな」と感じる一瞬である。

明るい日差しを奥の部屋まで届かせようと冬の間中締め切っていた板戸を開ける。日
差しとともにふと春風が立ち止まった。ふと、山の間から一頭の孔雀蝶が風に舞って挨
拶に来たのか・・。「こんにちわ」。


───────────────────────────────────────

"The Magariya in Spring"


In Tohoku, at the village on the momuntains, the spring has comes later
than another area in Japan.

And the every flowers come out all together such as
Ume,cherry,bossoms,apple,apricot,peach and cherry.

Really, people has been waiting for the spring.


Steadily,there is a birth of new life in the footpath of the rice fields,
against the mountains with the remaining snow.

The life is begins to move,to take the water of the thaw in full,to
have the sunlight of the spring which the temperatre rises rapidly.

It is the moment to feel"LIfe is great".


I open the board door being shut during winter to make the bright
sunlight reach to the back room.

Suddenly,a spring breeze stop together with the Sunlight.

By chance,a peacock butterfly dance in the wind. he comes for the
greetinfrom mountains,and then,he says"Hello!"


                   
(English translation by Katsu Tanaka, 1998,)


「曲り屋」